Are you planning to retire soon?
Have questions about
Social Security Benefits and Medicare?
You are not alone. Millions of people will retire this year without knowing exactly how to make Social Security work for them.
BEFORE YOU FILE FOR SOCIAL SECURITY CONSIDER ATTENDING THIS WORKSHOP
Thursday,  June 9, 2016
6:30-7:30pm
Join us at the
Sea Country Senior & Community Center
The Pine Room
24602 Aliso Creek Rd, Laguna Niguel, CA 92677
Call (949) 495-2016 to reserve your seat
NOTE: There will be short discussion regarding Medicare Supplements in the presentation.
These workshops do not cover Social Security Disability.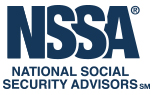 Presented by a
Certified  Social Security Advisor
(NSSA)
***No charge to attend***

Attend this 1 hour workshop and learn the little known strategies that will help you:
Avoid some of the most common mistakes when filing for your Social Security

Calculate which one of the 567 ways to file may be best for you

Collect benefits and still grow your own benefit 8% per year

Collect off of an ex-spouse's benefit

Collect off of a deceased ex-spouse's benefit

Find potential benefits you never knew you were eligible for

Increase your lifetime benefits by tens of thousands of dollars
This workshop is strictly educational; no products will be sold or endorsed at the class. Coliday is not associated with the Social Security Administration or any other government agency.